DCT Japan takes clinical trials to the next stage
with innovation and expertise.
About DCT

※
※ Decentralized Clinical Trial
Patient-oriented clinical trials that do not rely on visits to trial site
Decentralized Clinical Trial (DCT) refers to a clinical trial that does not rely on visits to a trial site by utilizing telemedicine, home nursing and digital devices, such as wearables. DCT contributes to ease the burdens placed on patients due to their physical condition and distance from the trial site, improving patient enrollment and reducing the trial cost related.
Site-centered clinical trial
Patient-oriented clinical trial
Solution
Digital clinical trial solutions only provided by DCT Japan
solution 01

Nationwide mobile nurse network and 24/7 service
DCT Japan makes the most of the know-how and human resources of the group medical institution Tetsuyukai, which has experience in more than 20 home nursing clinical trials, and nationwide mobile nurse network to cover all the area for the implementation of home nursing service in the comfort of patient' home.
Mobile nurses are trained on GCP and the protocol by our well-experienced staff and certified to carry out home visits in compliance with the relevant regulations.
Numerous experiences in indications such as cancer, rare diseases, infectious diseases and orthopaedics
| | Rare disease A | Rare disease B | Cancer | Other |
| --- | --- | --- | --- | --- |
| Confirmation of the health status of the patient, including concomitant medications | ○ | ○ | ○ | ○ |
| Vital sign | ○ | ○ | ○ | ○ |
| Blood draw | ○ | ○ | ○ | |
| Urine collection | ○ | | ○ | |
| Specimen processing and transport | ○ | | ○ | |
| ECG | | ○ | | |
| IMP administration | | ○ | | ○ |
| Explanation of iPad usage to patient | ○ | | | |
| Support for telemedicine by investigator | ○ | | | |
| Vaccine administration | | ○ | | |
solution 02

Easier and safer DCT with our digital platform
Telemedicine platform provided by Integrity Healthcare, a group company, is used by more than 4,000 medical institutions nationwide, enabling communication not only between investigators and patients, but also between our Decentralized Trial Assistant (DTA) and mobile nurses to ensure the safety of patients in home clinical trials and improve the quality of work by mobile nurses.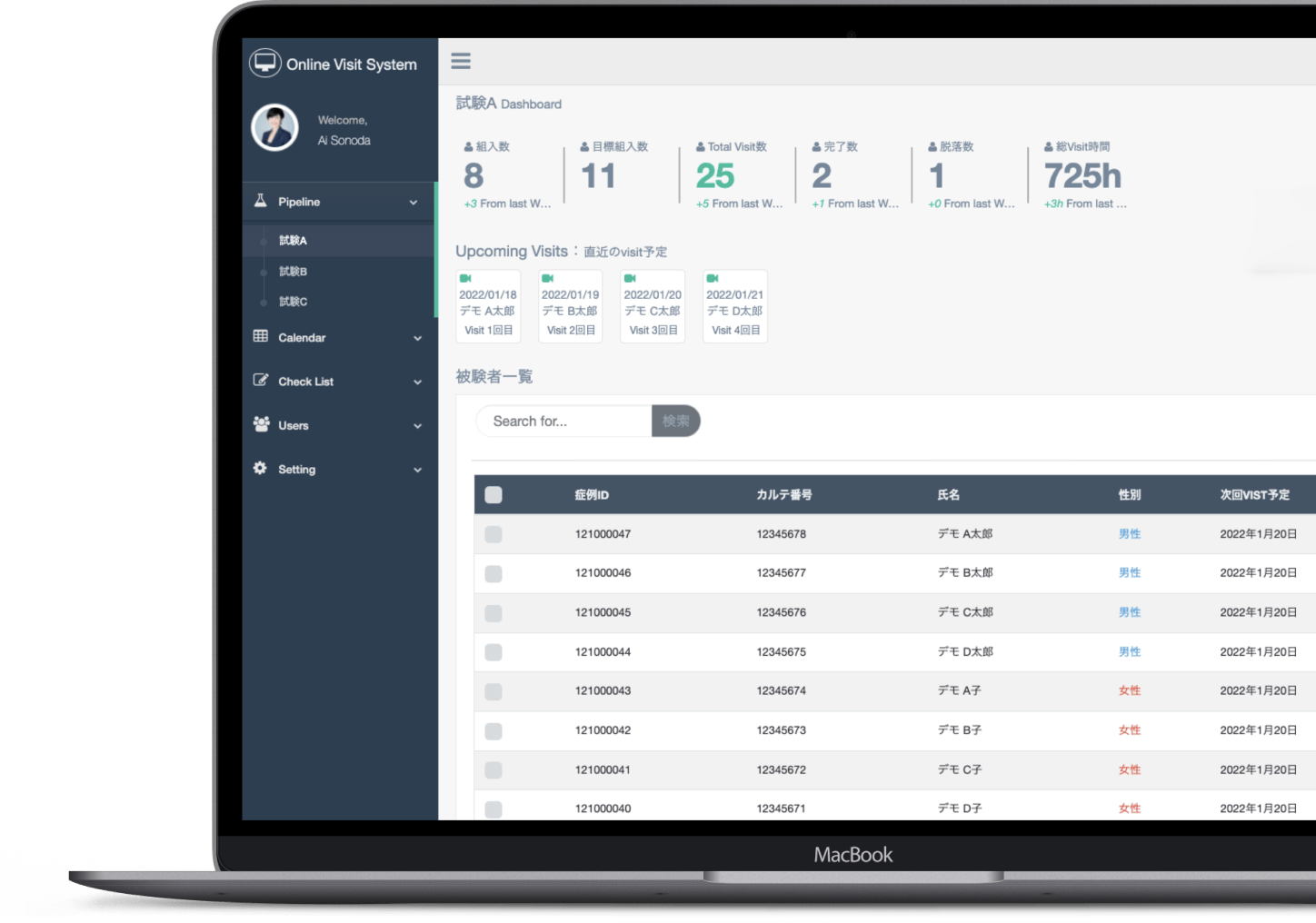 solution 03

We can help improve enrollment and retention by reducing the burden on patients.
The burden on patients can be reduced by conducting patient recruitment, screening tests, imaging tests at medical institutions close to the patients' homes (Satellite medical institutions).
Through the medical institution network Integrity Healthcare and Tetsuyukai have, DCT Japan can launch satellite medical institutions across the country that contribute to a reduction in the number of trial site and clinical trial cost.
solution 04

A wide range of consultation support is available, including planning, implementation and follow-up.
Consultation support is provided by in-house experts with extensive experience in DCT and Tetsuyukai doctors, including advice on the design and preliminary research on DCT, selection of devices and introduction of DCT to the trial sites from a medical and clinical point of view, as well as from the point of view of relevant laws and regulations.
Consultation for DCT
Advice on introducing home nursing clinical trial

(Appropriate visit points and activities for home nursing and its feasibility, etc.)

PMDA consultation support

Support for trial site selection

(based on patient demographics and consideration of introducing satellite medical institutions)

Research and advice on the introduction of wearable devices and other DCT platform
Support for the introduction of
DCT to the trial sites
Proposal for comprehensive
DCT structure

(eRecruit, Satellite medical institution, home nursing, DCT platform such as telemedicine system, etc.)
Overseas
Expansion
DCT Japan provides DCT services from Japan in cooperation with partners in Asia and other countries, and by becoming a hub, DCT Japan can integrate and improve the quality of work, be point of contact and reduce contractual process, supporting global studies more efficiently.
Company
Company Name

DCT Japan Co., Ltd.
Establishment

February 2022
Service

DCT(Decentralized Clinical Trial)solution service including Home nursing, Telemedicine、ePRO, etc.
Board member

President: Shinsuke Muto
Director: Ai Sonoda
Director: Hiroyuki Kakigi
Auditor: Shojiro Mitsuzawa
Headquarters

YAMATO B.L.D, 1-27-5, Kakigaracho, Nihonbashi, Chuo-ku, Tokyo